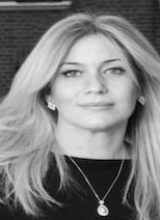 The Honourable Society of Lincoln's Inn
Areas of Expertise
Family
Ancillary Relief
Crime
Immigration
Asylum
Employment
Spanish (Fluent)
English (Fluent)
Portuguese (Conversational)
Italian (Conversational)
Qualifications
LLB (Hons)
Bar Vocational Course: Inns of Court School of Law.  
Pupil Supervisor
Public Access qualified
Public Access Supervisor 
Maria's Practice
Family:
Maria has conducted numerous cases particularly in the Principle Registry of the Family Registry over the years and regularly advises on all aspects of matrimonial problems and disputes.
Ancillary Relief:
Maria is regularly instructed in all aspects of ancillary relief. She is currently involved in an appeal at the High Court concerning a husband appealing a Pension Order made in 2005 having obtained leave to appeal on 17 December 2014
Crime:
Maria undertakes all aspects of criminal work , she conducts  cases both in the Crown & Magistrates Courts involving a wide range of offences.
Her  trial experience includes serious fraud, confiscation, serious violent crime, firearms offences, robbery, drugs, rape and sexual offences, public order offences and those against public justice.
Immigration/Asylum:
Maria practices on all areas of immigration , including bail applications, applications by students, visitors and family members, applications under the Immigration (European Economic Area) Regulations 2006.  She acts in both the First-tier and Upper Tribunals and specialises in all areas of EEA and non-EEA immigration and has a broad knowledge of the rapidly changing, and complex, Point Based System.
Also, she regularly advises on potential claims against the Home Office for unlawful detention/false imprisonment to seek release and/or compensation arising from detention under immigration powers.
Employment:
In relation to employment law, Maria has appeared in the Employment Tribunals, the Employment Appeal Tribunal and the High Court. As well she represents regularly Claimants on a Pro-Bono basis on:
Unfair Dismissal

Discrimination- Race, Sex, Age, Disability

Equal Pay Claims

Wrongful Dismissal

Breach of Contract Claims
By way of example Maria has recently been involved in substantial cases dealing with:
TUPE transfer of large group of cleaners

Discrimination and dismissal claims on behalf of a cleaner who wrote and delivered a personal letter to a government minister- peacefully making a case for a living wage. When identified by the press his employer suspended him and found him guilty at a disciplinary hearing of "Gross Misconduct", temporarily dismissing him.

The dismissal of an employee following a protracted capability procedure

The failure of collective consultation in a TUPE transfer on behalf of a large group of Latino American cleaners

Unpaid Wages

Unfair dismissal /discrimination on religious grounds
Public Access
Maria is licensed to receive instructions direct from clients  ie; Members of the public may come directly to the Barrister without going through [or incurring the cost of] a solicitor for advice. The Barrister [if they consider it appropriate] can conduct the case without the additional expense or services of a solicitor. 
Maria's Background
Maria came to England from Spain as an adult , she established a successful business  with several outlets in central London which initiated her interest in law. She was Called to the Bar at Lincoln's Inn in 2006. 
Maria's practice is very diverse. For the last 8 years under the hospices of St.George's Cathedral in  Southwark London (SE1)  Maria has run every Thursday from 10 am to 2 pm a highly regarded and well respected Pro-Bono legal clinic at Cathedral House  St. George's Cathedral advising the disadvantaged and non-english speaking Latin American community on immigration, crime, housing, family and employment matters.
This has proved extremely popular and successful and has assisted numerous people, who cannot afford solicitors and would otherwise have no legal advice or assistance.
Maria is on the list of the preferred lawyers recommended by the Spanish, Colombian and other Latin American consulates in London.
Other Work
Maria concentrates in advising and representing the disadvantaged communities within the context of Human Rights and social equality.  Examples include: –
Saatchi Cleaners Unpaid Wages (The Guardian)
Saatchi Cleaners Unpaid Wages (USA News)
Maria contributes to the Express News Latin-American Newspaper published in England, Madrid, Bogota and Florida writing legal articles .
Maria has also been invited to give inspirational talks to University Law Students such as London Metropolitan University
Notable Cases
Transport for London -v- Mr.F. A. [2014]
LFEPA-v-Koyser K. [2014] 19 counts breaching LFEPA Regulations.
 R -v-  FORTEATH & OTHER  [8 weeks ] ( Inner London Crown Court) Involving false marriages/ Impersonating dead people/ Forgery of Wills/ False declarations/ Perverting the course of Justice & Fraud involving £1,000,000.
R-v-G. Guamen ( Rape and Deportation)